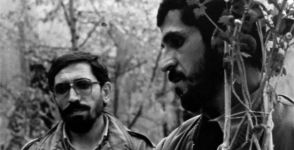 As an avowed Kiarostami fanboy, I do my damndest to spread the gospel. Unfortunately, nothing in the man's body of work jumps out as an especially effective "gateway drug". The impulse says to go to Taste of Cherry, his best-known film in the United States, and it while it certainly should snag curious viewers, I have to believe theire are titles that better reflect what Kiarostami is. While quite possibly his most acclaimed — Jonathan Rosenbaum certainly went into rhapsodies over it — The Wind Will Carry Us appears to have only a so-so conversion rate.

I put this question to essayist and Kiarostami buff Phillip Lopate when I interviewed him, and he thought 1990's Close-Up would be the one with which to lure others into the fold. I'm still not sure. I mean, the issue of the film's excellence is more or less indisputable, but it's such a novelty. Kiarostami is a pretty meta filmmaker anyway — rarely does he leave untouched an opportunity to remind the viewer that they're watching a movie, as in the infamous crew shot at Taste of Cherry's end — but Close-Up is a whole other game of meta altogether.

Once — and this is in real life, mind you — a lonely man named Sabzian found himself on a bus, reading a copy of The Cyclist. When a woman asked him what he had there, Sabzian obeyed a whim and told her he was Moshen Makhmalbaf, director of the acclaimed film The Cyclist. He eventually wormed his way into visiting her family under the pretense that he would use them in his next feature. One of her sons grows suspicious, however — he comes to suspect that Sabzian is just a burglar casing the joint, and pretty soon the jig was up and Sabzian was plonked down in front of one of those frowning, fearsome-looking Iranian judges.

This case caught Kiarostami's attention, and so he decided to make a film out of it. But he wouldn't deign to make a mere dramatization with actors — he made a re-enactment with the actual people: Sabzian plays Sabzian, Makhmalbaf plays Makhmalbaf, the duped family plays the duped family. A brilliant idea, sure, but there must have been a few awkward moments on set. Then again, bizarreness is a decent antidote to awkwardness.

So in Close-Up, we see a man who impersonated another man re-enacting his impersonation of that man as well as his plea in court that he just wanted to live a little by impersonating that other, the authenticity of the emotion of which is called into question (in re-enactment). The question, then, is this: is this man who is re-enacting his possibly acted testimony regarting his impersonation genuine? Hoo boy. And that's setting aside the fact that Kiarostami is in full this-is-a-movie mode pretty much throughout, showing his research interviews with the involved parties as well as allowing — and acknowledging — various technical problems that crop up during filming. (The production is agressively lo-fi, but even so it must be said that the Facets DVD transfer blows chunks.)

Despite these onionskin layers of truth, falsity and re-creation, it's hard to avoid a simple feeling of sorriness for poor Sabzian, a divorced, underemployed, Ahmadinejad-lookin' assistant printer who just wanted to feel good about himself for once. But is it sorriness for the "real" Sabzian? Or for his possibly constructed self on trial? Or for his re-creation of his possibly constructed self? Or for — aw, sheez. Damn this hall of mirrors!