Sangsoo Hong1, the latest addition to my stable of most favored filmmakers, had an eight-film retrospective at LACMA over the last two weekends. I considered it an imperitave — nay, my duty — to attend. Or at least to attend one of the weekends — hey, repeatedly renting cars can get pricey! — which served up four pictures, three of which aren't available on North American DVD.
Besides providing an opportunity to test and slightly bolster my understanding of the Korean language, the screenings gave me what amounted to a shot of pure cinematic narcotic. I knew, going in, that it'd be the good stuff, but eight hours of unadulterated, theatrically-viewed Hong helped me gain some understanding of what, specifically, I like about the man's work.
First and foremost is his visual aesthetic, which usually comes down to "keep it simple." He tends to compose scenes in single shots, two or three in bolder moments. It wasn't until I closely watched a few filmmakers do this (Béla Tarr being another notable practitioner) that I realized just how irritating, consciously or subconsciously, I find the constant cutting that goes on in most movies. When I watch one of Hong's trios of drunken, red-faced Koreans sitting around a table and venting their semi-coherent frustrations, I'm actually seeing it — the setup, the performances, the pacing, the build — rather than seeing it chopped into fifty different bits originally shot over a week's time.
Second is his structuralism. By this I don't mean alignment with any intellectual fads, but a tendency to work out his projects' structures first and go from there. Other filmmakers might slap together an ad hoc structure to acommodate a story; Hong builds story around, or into, structure. As he's often quoted as saying, "People tell me that I make films about reality. They're wrong. I make films based on structures that I have thought up."
Subpoint: it must be said that I also appreciate his process-orientation. During the Q&A that finished the screenings, he described his adherence to his method of commencing photography with only a treatment in hand, spending exactly one hour each morning of the shoot composing the day's dialogue. I've started to believe that effectively imposing structures, processes and procetures on oneself to work within speeds the creative process. Can Hong's having racked up nine films in thirteen years be a coincidence?
Third is his willingness to probe restrained thematic territory from many angles. Hong's territory, as he's thus far staked it out, would seem comically limited: modern-day Korean creative types in their 20s and 30s smoke, drink, fall gracelessly into bed and brew half-assed solutions to their problems both pedestrian and existential. As dry a well as this sounds, he's gone to it nine times now and always come back with something fresh, intriguing, funny and pretty damn genreless. Outline his films and they sound just like what you'd call "romantic comedies," but their dozens of sharp angles would never, no matter the force, fit into that peghole. In many ways, I regard Hong's filmography as one big movie, each separate release its own distinctive chapter.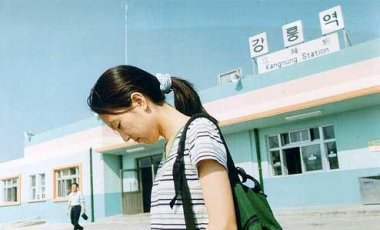 In Hong's second film, 1998's The Power of Kangwon Province, Jisook, a college student, and Sang-kwon, a married professor call their affair quits and both embark, separately and unbeknownst to one another, on head-clearing mini-vacations to the scenic northerly province of Kangwon. The film tells their geographically overlapping tales in parallel — first Jisook's, then Sang-kwon's — with a few interesting (and mostly non-contrived) points of connection.
From what I've read, this movie firmly established Hong's prevaling style: one-shot scenes, retreats into nature and distant towns, soused gatherings around tables piled with empty soju bottles and the most unromanticized sex scenes ever. (I haven't seen his first picture, The Day a Pig Fell Into the Well, but I hear it's not half as developed.) Lots of Hong fans ("Hongheads"?) call Kangwon Province their favorite, and while it's clearly a strong entry, I admit to having trouble rank-ordering his work. But it's definitely in the running.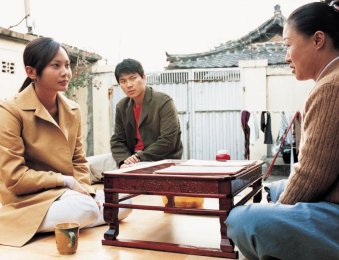 2002's Turning Gate, Hong's fourth film (the third being Virgin Stripped Bare by Her Bachelors), also sits on my personal top tier. It earns most of that status by virtue of its humor alone. In response to several intractable personal dilemmas, protagonist and frustrated actor Gyung-soo repeatedly trots out the semi-meaningless phrase "I know it's hard being human, but let's not turn into monsters, okay?", parting words with which his previous (and hardly less pathetic) director shooed him away. A flighty dancer with whom Gyung-soo briefly grows enamored performs a strange compressed routine of the world's dance styles. A bunch of people pile into a van for a day trip, only to immediately slam a girl's fingers in the door; everything, from the industrious beginning to the clumsy, halting abrupt end, plays out in one high-angle wide shot. "How do you like my moves?" Gyung-soo keeps demanding throughout one of Hong's trademark unsexy sex scenes.
Hong uses a symmetric, repetitive structure here, emphasizing Gyung-soo's tendency to make the same mistakes over and over again in whatever arena he happens to enter. Hongheads will recognize this as the predominant trait of the oeuvre's males: they're stubborn, buffoonish, uncommunicative, impulsive. But they also try their damndest to snatch at the closest source of dignity. Gyung-soo tries, he really does, but he can never quite become the person others want him to be, whether those others be his audiences, his directors or the two women he fumblingly romances.
(Jeff Reichert in Reverse Shot once compared Turning Gate to Garden State. I haven't seen the latter film, though plenty of friends have told me I wouldn't like it.)

Even Hongheads appear to regard 2005's Tale of Cinema, Hong's sixth movie (number five being the oft- and unfairly maligned Woman is the Future of Man), as difficult to properly judge. A lesser blogger than I would write "spoilers ahead," I suppose, but here goes: the film pulls a switcheroo at the halfway point, revealing the melodrama onscreen to be a short film within the larger, "real" film. This is welcome, since the inner movie ends with its sorrow-filled teen protagonist rushing to a rooftop shouting "Mother! Mother! Mother!"
The screening turns out to be one in a series honoring its director, who's hospitalized and maybe on his deathbed. Or maybe not. In attendance is Yeong-shil, the actress who portrayed the chaste love interest/unsuccessful suicide pact member in the film-within-the-film, and Tong-su, an old (and less successful) film school buddy of the director's. Tong-su grows fixated on both the movie and its lead actress, approaching her until they both end up in one of Hong's unsexy sexes. (The best of them, for my money, though I'm not quite sure why.) Complications ensue.
From frame one, it's clear something's up. To take the most startling quality, the cinematography's full of zooms! Hong seriously breaks loose with the lens lever, and while the result doesn't look "better" than the static shots of Tale's predecessors — "zoom is crappy" remains my aesthetic position — the change of look and feel fascinates. Also contributing to that is the use of way more music cues than usual. At this point, a Honghead-in-training would be well used to hearing a melody at the very beginning and the very end — maybe. These bells and whistles aren't just the tropes of the short film, either; they continue through all the action.
The relative terms "simple," "fun" and "light" might — and have been used to — accurately describe the picture, but it also seems to have disappointed more than a few diehard Hongheads. I suspect there's more complexity behind its brief, sub-90m length and constant goofiness than meets the eye, but I'd also recommend it as an introductory, gateway doseage of Hong's work. That is, I would if it were available on domestic DVD.

As yet Hong's ninth and most recent release, 2008's Night and Day (which was proceeded by 2006's Woman on the Beach also happens to be his most ambitious. Not that you'd know it by Hong's own introduction: "This film is quite long, two hours and 25 minutes," he muttered before the screening. "I hope you find something good in it."
After getting busted smoking pot with a bunch of foreign exchange students, fortyish painter Seong-nam flees to France, far from the reach of Korea's harsh drug laws. Flopping down in a well-known Korean-owned boarding house, the bumbling non-Francophone wanders the city, spends the last of his money and falls in with three fellow artists, women, though even the plaigarist among them produces a lot more than Seong-nam does. Each night he tearfully phones his wife back in Seoul, where it's day. (Geddit?)
Like most Hong men, Seong-nam's full-bore bullshitting can't quite stand up to the harsh glare of the womenfolk. Here, it's for some reason even more hilarious than usual, possibly thanks to the transportation to a foreign land that renders him even more ineffectual and uncomprehending than he would've been in Korea. Not that he escapes the homeland's concerns entirely: he totally freaks, for example, after happening upon a North Korean student at a party, almost instantaneously demanding to know his opinion of the Great Leader and Eternal President. "I just met a North Korean!" he exclaims to himself. "What do I do? Should I tell the consulate?" He later squares matters by his usual method: arm-wrestling.
My immediate impression of Night and Day is that it simply has a lot more stuff than its antecedents. Hong is correct, predictably, that it runs two hours, 25 minutes, but his hope that I find "something" good in it proved too humble. The film's diaristic style — it depicts a small-to-medium scrap of each of Seong-nam's many days in Paris — creates, bit by discrete bit, a sketch of a displaced, disoriented life. It doesn't hurt that the device affords opportunity for as many laughs as Turning Gate. I'll never stop chuckling at the cut straight from Seong-nam's deer-in-the-headlights stare at one of his ladyfriends' demands to know his definition of art to the next day's title card. And what have I learned above all else about Sangsoo Hong's cinema? It's hilarious when people cry their eyes out. No greater master of the comedic weep shall ever live.
---

1 Up to this point in my effort to grasp Korean language and culture, I've assumed that every romanized Korean name consists of two syllables separated by a hyphen. Apparently it's a matter of choice, as Hong is known to prefer "Sangsoo" to "Sang-soo". As for the non-Asian name order, that's my own quirk; when I speak and write in the Anglosphere deliberately putting Asian surnames first, I feel like the vaguely slimy weenie who, presented a fork at a Chinese restaurant, irritatedly demands chopsticks.