This fellow with whom I'm developing a radio show has been looking for a way to Haiti since it took the wrath of YHWH (or whomever). I get the feeling that puts him in a distinct minority at this moment in history when more people want
out
of Haiti than ever before. But he's a trained EMT with the apparent habit of darting off to troubled places — most recently, Iraq — and doing what he can. Though no viable entrées have presented themselves, he remains on the lookout, if cautiously so. "I'll go where there's occasional explosions," he said, "but not necessarily where there's no food or water."
Whether or not you're into foreign disasters and/or combustion, statistics say you've probably taken a moment to reflect on how, no matter what work machination, obscure social struggle or pleasure search isn't working out in your developed-nation life, at least you're not in Haiti, Where They Have Real Problems. Some of you have no doubt seized the opportunity to loathe yourselves for having food, water and a modicum of material comfort yet not existing in a perpetual paroxysm of ecstatic gratitude.
How dare I get worked up about my shower's low water pressure
, you grumble.
Think of Haiti, man. Haiti!
That this doesn't work reflects, to my mind, one of the most interesting conditions of humanity. David Foster Wallace wrote about this — more eloquently, of course, than I ever will — in "A Supposedly Fun Thing I'll Never Do Again", or, if you prefer, "that essay about the despair-inducing cruise ship." Part of this despair was induced by the elusiveness of satiety. No matter how desperately Celebrity Cruise Lines tried to "pamper" its guests, and no matter how desperately those guests tried to attain satisfaction via said pampering, it never quite seemed to click, especially in Wallace's own case.
Maybe, he speculated while growing dissatisfied with the cabin that initially stunned him in its sheer advancedness and comfort-engineeredness, there's just some infantile part of each and every human being that simply
wants
, like that's what it's
for
. Acknowledging this might, for some, be akin to gazing down the abyss. Wallace himself seemed none too happy about it, though as we've now confirmed, he wasn't exactly a happy camper; his was having a good day if he could make out the shafts of light through the avalanche of meta-thoughts.
These meta-thoughts didn't trouble most of Wallace's fellow cruisers. Many were too busy conga-line-forming, skeet-shooting and midnight-buffet-gorging to entertain meta-thoughts at all. While I don't desire a mindset quite that unaware, I do regularly feel the stifling inconvenience of the meta-thought morass, how they crowd out regular thoughts and even actions. "Am I being tripped up by my concerns about how this sentence I'm speaking now will be received?" "How will my next planned actions be affected by my planning responses to whether or not this action goes as envisioned?" "Is what I'm doing now what I want to do, or what I
think
, I want to do, and to what extent does the distinction matter?" Criminy.
But meta-thoughts have given me a number of useful insights too, such as the "Would I respect me?" choice test. They've also led me to internalize the deeper realization that, indeed, the infant within us
never
shuts up,
never
stops wanting. But I don't find this conclusion depressing, or even disheartening; I simply draw from it that satisfaction is a product not of where you are, but of where you're going. To get calculistic, it ain't about your value, it's about your first derivative (and maybe your second). In this light, statements like "When
x
happens, I'll attain happiness" don't make sense, but ones like "While
x
is happening, I'll be happy" make somewhat more.
And here I've stumbled into using a forbidden word. Though it looks to have hit a downhill slope, "happiness research" is in vogue right now, and it's generated much hand-wringing: Are folk wisdom's guarantees about what leads to happiness wrong? Is an individual's happiness fixed and uninfluenced by events? Are folk wisdom's guarantees about what leads to happiness
right
? Is happiness even possible? I fight a personal battle against my impulse to write off all happiness research as dumb, though I
do
believe — reasonably, I'd submit — that the field's practitioners tend to miss the point.
Is getting "happiness" the goal of my life? Not unless you define "happiness" as "the goal of a human's life," rendering the whole inquiry worthless. I'd probably exchange away some amount of what's commonly perceived as happiness for other things — madder interviewing or writing skillz, for instance. And what
is
the stuff, anyway? Is it identical to pleasure? To aforementioned "satisfaction," which even I can't explain with any clarity? To numbers on a scale checked by survey respondents? These are foundational happiness research questions, I suppose, though that only makes the unavailability of answers all the more surprising.
The happiness research finding I
do
buy is the factoid, now tiresome due to ceaseless trottings-out — even John Cleese riffed on it at the 2004 UCSB convocation — that, beyond $20,000 per year, an additional dollar of annual income does not reliably increase one's happiness. This no doubt varies from place to place — different costs of living and whatnot — but I think the thrust is this: once you've got the bare necessities, more money might mean more happiness, but then again, it might not. (Let the "some do, some don't" ridicule of social science begin. Or, rather, continue.) This lines up with the notion of happiness as a by-product of positive change in one's life. Show me a parched, hungry Haitian successfully gaining food, shelter and running water, and I'll show you someone experiencing a hell of a lot more happiness than a real estate developer replacing one of his lesser BMWs with a finer BMW.
On a
recent episode
of his podcast, Adam Carolla talked about "rich white guy problems," that is to say, inconveniences that only pop up and seem major when you get to the seven figures: a delay on the shipment of one of your Lamborghini parts, for instance, or the party house's need for a new set of jacuzzi pumps. This naturally segued into commentary about entertainment industry talk on the Leno/Conan contretemps. "Only in this business can a guy walk away from his job, get 40 million dollars, and not have it be the best day of his life. People say, 'Sure, Conan's gonna get the money, but he'll be off the show, he won't be on TV, he's screwed.'
What?
"
But isn't he? At that level, I imagine it hasn't been about the money for a long time. Any gratification — call it happiness, call it satisfaction, call it whatever — thus comes from what you're doing, not how much you happen to be financially compensated for it. Pay a guy $21 million rather than $20 million to do a movie and he'll be, like,
whatever
. Give him more creative freedom and you'll see some real excitement.
That said, I
personally
reside at the point on the curve where an extra few grand — or, say, a double sawbuck left in the ATM — can greatly widen the smile on my face. Maybe this is a bad sign for someone my age, but when I saw
sibilance
link to a
WSJ article
about how a 22-year-old girl managed to make it in NYC on $30,000 a year, my reaction was not "Woah, how'd she swing
that?
" but a series of elaborate fantasies about all the things I could do with the impossible dream of $30,000. Hell, what
couldn't
I do? That's "thousand" with a T, people. (And yes, when I think about how Ira Glass famously made "only" $60,000 a year for a long time while working hard on the radio, my inner voice becomes Robin Leach's.)
The piece's subject had to do a lot of tacky bullshit to survive: living with three roommates in Brooklyn, smuggling wine into bars, dumpster-diving for bread, boiling chicken bones into soup. I don't even do that, but then again,
(a)
I'm in Santa Barbara, not New York and
(b)
this is maybe why I'm always a lot worse at saving up money than I expect to be. When Chris, a.k.a. The Livejournalist Formerly Known as
cobalt999
, told me that he'd saved enough over nine months of work —
nine months
— to engage in some extended "jetsetting," I was like,
what the hell.
Never have I amassed an amount of money that would allow me to do anything remotely describable as "jetsetting." I realize, on some partially inaccessible level of awareness, that I
could
get that kind of dough, since I meet plenty of people my age who do. I remember hearing one guy a while back declare that one of his goals for the year was to "make $100,000," and it was
plausible
. Dude was born the same year as me, yet I stand a better chance of
finding
a hundred grand — even just in ATMs — than earning it. But I only know of heinously unpalatable means to legitimately score that kind of scratch. I imagine myself getting shouted at over the phone about how something I implemented isn't e-commercing right, or maybe leveraging some stuff in order to leverage some other stuff.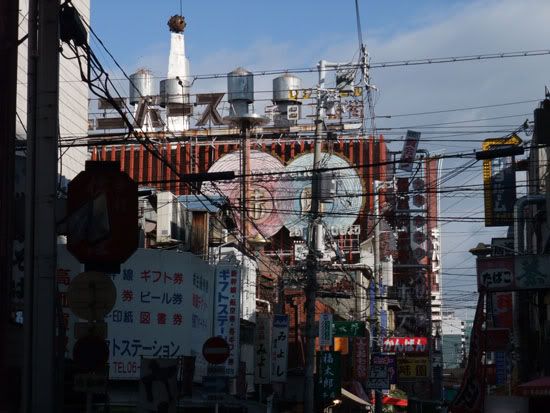 Either way, I assume I'd be forced into a work situation that would crowd out "recording interviews about whatever I want" or "never being in an office before 9:00 or after 4:00" or "writing thousands of words about my incomprehension at how those who make money can stand it" from my life, which would fall into the nose-cut-off-to-spite-the-face category of futility. If I really took this seriously, I suppose I could pull up stakes and go somewhere cheap; while Santa Barbara isn't quite to NYC's level of cost astronomicality, it's known at least-region wide as a pricey place to live.
Worse, the city's cost-of-living premium is inflated by demand for qualities I don't care about: sun, beaches, smallness, quiet. And my thinking about cities has been strongly influenced of late by a remark from the Berlin-based
imomus
, who, in
pondering
whether or not he could live in Osaka, offhandedly observed:
I've never seriously thought about living in Osaka before. I love Tokyo best of all. But increasingly, my outlook has Berlinified, by which I mean I regard expensive cities like New York, London and Tokyo as unsuited to subculture. They're essentially uncreative because creative people living there have to put too much of their time and effort into the meaningless hackwork which allows them to meet the city's high rents and prices.
This strikes a loud, long chord with me. I've bitched and moaned about how SB can't seem to sustain viable subcultures, and the expensiveness itself might be a considerable part of the problem. Those who want or need a bargain on housing go way out into the sticks, where there is not only nothing interesting but actually a
negative
amount of interestingness. (The land saps interesting nutrients from your bloodstream.) But as hard a time as I give this place, beliefs reside in action, not in testimony; if I didn't like it, I'd be gone, baby, gone. (Given, of course, the bucks necessary to move.)
I will thus, for the foreseeable future, stick to what I call
COLIN MARSHALL'S $EVEN-POINT PLAN FOR FINANCIAL $UCCE$$

Make more radio shows
Write more essays
Conduct more interviews
Shoot more videos
Record more field recordings
Write up more experimental films
Compose more plans for financial $ucce$$
I can't think of any worse paths to wealth, but then again, I can't think of any better ones!