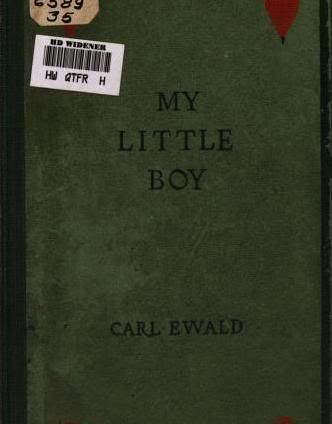 Madelaine went on an Orson Welles kick not long ago, during which she discovered
an archive
of his
Mercury Theatre on the Air
programs from the 1930s. ("Discovered" is probably an overstatement; it's linked on the show's Wikipedia page.) While the hick-spooking adaptation of H.G. Wells'
War of the Worlds
remains far and away
Mercury
's best-known production, I find none more compelling than its (much-truncated) version of Carl Ewald's novella
My Little Boy
.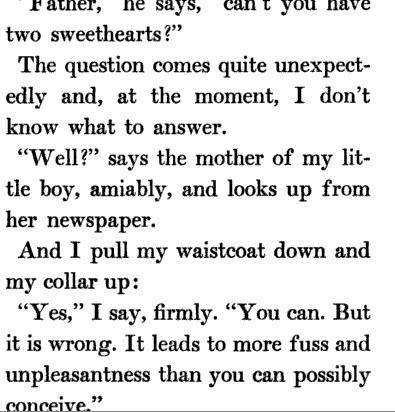 Ewald, a writer so obscure that he's
only covered in the Danish Wikipedia
, seems to have been a Darwin-loving social critic known primarily for penning a series of strange, didactic-sounding fairy tales with bleak outlooks. "My Little Boy", in its
original text
(Google Books scan
here
), is neither terribly strange nor all
that
didactic, though it does ultimately dive into a bit of bleakness.
The story, in both prose and broadcast editions, follows a father's attempts to instill in his son the appropriate values: don't spend the biscuit money on lollipops, don't beat up Jews, animals in zoos are probably miserable,
etc.
Though he must ultimately surrender the boy to school and thus to society, he does his utmost in the meantime. But this father, who also narrates, is already compromised; some of the values he's pressured to instill aren't the ones he'd prefer, and he's not entirely principle-adherent himself anyway. A dried-out aunt all but strongarms the father into telling his son that he shouldn't have two sweethearts. (The book offers a delightful dinnertime scene when our hero openly, ruthlessly skewers the woman's sanctimoniousness.) When his son asks if he follows all ten commandments, the father responds, "Ye-e-es."
This lends the text a certain jaunty humor, as this well-meaning dad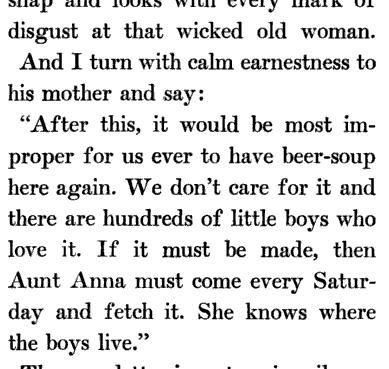 sardonically chafes against various types of societal nonsense. While many of the challenges encountered are somewhat specific to the Copenhagen of Ewald's time, if not unique to it, most are generalizable to the extent that they're still relevant today. Those that survive in Welles' stripped-down radio script certainly are; it was probably wise of him to excise the whole sequence where a deadly scarlet fever leaves the local circle of young chums in ruins. I'm still not sure what our narrator means when he insists to his little boy that "two plus two are never four," but it's for
damn
sure that schools remain in the peg-hammering business.
So Ewald's is a decent little novella, but the real magic happens when Welles gets his hands on it. This is not because, taking the role of the father, Citizen Kane himself breathes just the sort of life into the character that the prose suggests. No, his performance seems almost directly
at odds
with the father in the book, and the resulting tension makes the program one I cant help but listen to over and over again. Welles delivers the father's bemused with with the solemnity and gravitas of a
parody of Orson Welles
, creating a pervasive, unshakably ominous feeling that interestings-up the material enormously. And I don't even know if he intended it.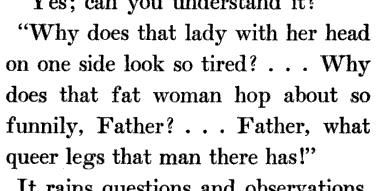 I had an Orson Welles kick of my own, back in fourth grade. I'd been assigned a research project on a "dead American" of my choice, if memory serves, and I couldn't come up with a single dead American about whom I gave a damn. My dad, possibly extrapolating from my interest in radio, brought up Welles' name. Though only vaguely aware of the guy, I ran with it, as it saved me from having to do a presentation on my fallback, Groucho Marx, a figure I had no interest in then and even less in now. (But given another dead-American project in fifth grade, I mystifyingly chose John Muir, who makes Groucho look like Brian Eno.) So I got up in front of my class and talked about spooking hicks for half an hour.
Only now do I realize that I really should have been more into Welles all along, given that I share with the man the insatiable tendencies — diseases, really —
(a)
not to confine ourselves to one form and
(b)
to do things because people specifically tell us not to. The main difference is that Welles broadcast
My Little Boy
and
War of the Worlds
at age 23, then went on to make
Citizen Kate
at 25. Whereas I am 25 and writing a blog post about Orson Welles. what the hell