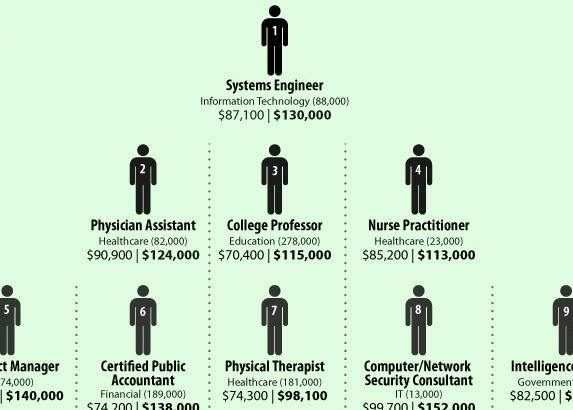 Focus has produced a much-linked-around
piece of information design
purporting to chart the "Best Jobs in America". It's generally interesting in the same way all data like this are — not that its infosthetics are really up to snuff — but I find it personally resonant on another level. That level is how awesomely unappealing all these jobs sound.
Winning the baby-blue "future growth" award is "Product Management Director", offering a handsome $201,000 top salary. Handsomer still is the $239,000 annual compensation granted the "Sales Director", who's red for "most flexibility." But the apparent king of the hill, with 88,000 jobs in the sector paying a comparatively lean but hardly unlivable-on mean of $87,100 and max of $130,000, is the eerily unspecific "Systems Engineer".
I'm reminded of a David Sedaris line that comes to mind more and more often these days: "Show me the child who dreams of becoming a sausage casing inspector." I'm less troubled by the fact that I don't like the sound of these lines — that's just Why I Increasingly Mesh Poorly with Society, vol.
n
+ 1 — but by the premises that implicitly underpin the presentation as a whole. It's as if the reader should take a look at this list of "best" jobs and think, "Welp, better become one of these."
But does anyone think this way? I've looked over hundreds of rankings of occupations, colleges, cities — oh, don't get me started on urban "livability" rankings — and what have you in my time, but they have zero potential effect on my actions. Even given unlimited time and resources to train and prepare, it's not as if one can simply pick and excel at a pursuit off a list, is it? Going down the line, scanning the pre-defined entries and thinking "I'll do whatever seems lucrative and secure" just seems so incomprehensibly
backward
that I can barely force my mind to engage with the idea.
(
PROLEPSIS:
The car, the wife, the house and the kids won't pay for themselves, so at some point you gotta do whatever gets you the scratch. True, but why do you think I actively avoid acquiring those things? It ain't just because they're scary. Though that's part of it.)
If one were trying to strategically spend their first life saving up money for their second, sure, that makes sense. But it's, uh, life — we don't get seconds. I would argue that, in decisions about what
this only life will be
, nobody's graphs, rankings or pyramids count for much. When you determine the work you're most jazzed about, here's not enough money in the world to deter you from it... right?
This is maybe just my tunnel vision talking, but systems engineering wouldn't seem to land in the most-jazzed-about square. Systems engineering no doubt has its perks. I'm sure a lot of fine, upstanding people are systems engineers. But there is nothing on Earth that could induce me to go into systems engineering, whatever it may entail: not jewel-encrusted chalices, (probably) not 77 virgins, not spices the likes of which i ha' ne'er before smelt. Quite frankly, it wouldn't make a difference to me if the graph's pay fields looked like this:
That sounds stupid, I realize, but I can't shake the memories of all the chilling times older friends/associates of associates/extended-family relatives have taken me aside and explained, the abyss of inner death in their eyes, that I shouldn't make the same mistake they made — the mistake of not doing something they actually wanted to do.
Perhaps my perception is just an expression of what Jordan Morris might call "
pith and vinegar
." But whereas an individual's pith and/or vinegar levels tend to drop with age, mine have only risen. I had neither pith nor vinegar at 16; at 25, the twin streams flow mightily. I recently
tweeted
about how I'm starting to think that the only life worth cultivating is the one other people think shouldn't be allowed. Maybe I'd do better to say I want to live a life that inspires resentment, not with the rewards it generates but with its very nature.
And speaking of, I twote a link to the graph that prompted this entry right after
tweeting my excitement
at discovering experimental noise cellist
Okkyung Lee
on Twitter. Maybe that, more effectively than anything, illustrates them problem here.