My favorite
xkcd
strips, a set which includes the one seen above and the much-quoted "
Dreams
", also known as the "FUCK. THAT. SHIT." one, deal with the theme of the harm routine and expectation do to the perception and experience of interestingness. Why, I wonder, do so few comics — hell, so few
works
— openly recognize humanity's ongoing ignorance, and hence waste, of its absolute freedom? For Randall Munroe, it increasingly seems to be a founding plank of his creation.
For completeness' sake, here's what
xkcd sucks had to say
:
[ ... ] the other thing that annoyed me about the comment was how clever the first character things he's being, woo, no one has ever thought of that stuff before. "It's only my mental rules that stop me from punching you" is so stupid too, there's plenty of good other reasons not to punch someone - they may be stronger, they may have a more powerful weapon on them with which to get their terrible revenge, also you might get arrested. Or the word may go out that you are a douche. That's a lousy result too. Basically what the character wants to say is "people take long term consequences into account because they aren't idiots. But they could ignore them if they wanted!" GENIUS!
(God, if only someone felt the need to start a popular blog called "Colin Marshall Sucks". Or at least a Twitter feed. Maybe I should make one myself.)
If you'll permit me to condense and rephrase this objection, I think it comes to this: people don't stray too far from behavioral norms because they aren't
insane
. (I'll leave aside the whole other discussion about the suckiness of human ability to "take long-term consequences into account" with any accuracy.) But I've come to believe that insanity in the pursuit of interestingness is no vice, at least in moderate doses. I stand by my
tweet of February the 23rd
:
To reliably cut through creative blocks, your mind's blade must bear a micron-thin edge of audacity — if not insanity.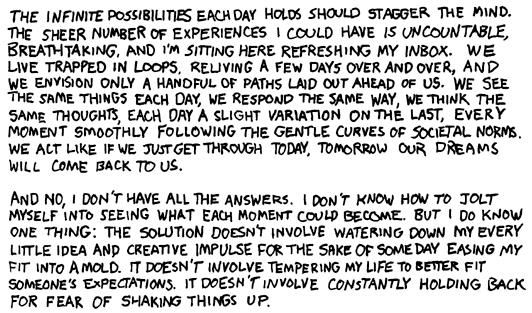 I base this on something of a meta-
Oblique Strategy
I've been roadtesting: when in doubt, or in confusion, or in a muddle, jack up the boldness. Do whatever's less expected, whatever's crazier. Ask a question that comes seemingly out of nowhere. Post something nutty to the net. Punch a guy. (Or commit the equivalents thereof in your own medium.)
Reading the collected work of
Seth Godin
, I've become mildly obsessed with the concept of "remarkability." In
Purple Cow
and elsewhere, Godin writes that it's all well and good to be excellent, but without being remarkable — like a purple cow is remarkable! — all the excellence you can summon won't make a difference. How different, then, are the ingredients of remarkability from a slight touch of the old insanity?
The huddled masses of Brooklyn-based novelists and poets in
their mid-twenties? Not remarked upon.
Tao Lin
, who's often called at least weird and at worst some sort of sociopath? Remarked upon. Danish film directors? Not usually remarked upon, outside circles of northern-Europe cinephilies. Lars von Trier, thought of as so insane that his insanity as been paid tribute by
the best Onion News Network video
. 20th century composers? Not much remarked upon unless you're hanging in the music department grad lounge. John Cage, who
doesn't give a FUCK
? Remarked upon and then some.
We tend to tell ourselves that ideas are ever so valuable, each one we dream up a potential ticket to lifelong glory and satisfaction. But — and I realize I circle back into my own well-trod territory here — how much are they worth? Compared to, like
execution
? Allow me to defer to Merlin Mann, perhaps the wisest public intellectual currently speaking — or
tweeting
— on this subject:
The guy who worries people will "steal" his idea might better ponder why nobody "steals" his implementation.
You could say that idea multiplied by execution equals goodness. I wouldn't call that a misrepresentation, but I find this conception even more useful: ideas are effective only in their capacity to motivate me to seen the execution through. Again:
ideas are effective only in their capacity to motivate me to see the execution through
. The easiest way I've found to make an idea sufficiently interesting to accomplish that is to allow it an edge of insanity. Normality, which always and everywhere exerts its insidious gravitational pull, is no motivator; best to get abnormal as soon as possible, if only for your own excitement.