Tyler Cowen has
thrown down the gauntlet
, and so I've picked it up:
Brian Eno, A Year With Swollen Appendices.
I re-read this and
wrote it up
couple years ago, but my appreciation is uncomplicated. It's just a year out of Eno's diary and a few of his essays, but it offered me a richly detailed peek into a life fundamentally different than those I'd previously known. Could it really be possible, Colin
18
might have asked, to live by creating many different types of interesting stuff in many different settings, approaching each as a personal, compartmentalized endeavor, yet operating along one's own, broader principles of art and culture? It is.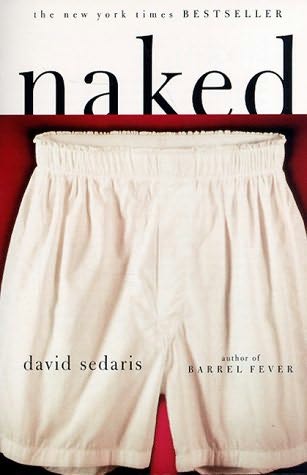 David Sedaris, Naked.
Neither essays nor "humorism," much less the NPR variety, particularly appealed to me before I found out about David Sedaris. His work has become perhaps the prime modern instantiation of the essay form and draws pain-inducing laughs without resorting to anything so obvious as a straight-up joke. Sedaris is widely respected for his askedwedly observant prose style, not without cause, but what he demonstrates to me is more that writing succeeds to the extent that it's a clear, honest peeling-back of the author's skull, an open doorway into a distinct mindset and thought process. I think he now regards
Naked
as an amateur work, but I find it rough-edged in an appealing way that's sometimes missing in his more recent stuff.
David Foster Wallace, A Supposedly Fun Thing I'll Never Do Again.
Wallace's editor at the
Atlantic
, where this book's 100-page titular essay about the existential crises revealed/induced on a seven-night Caribbean cruise originally ran, called his writing "pure cocaine." Having read the collection at least a dozen times over, I agree. Since first encountering his work, I've been obsessed with determining and replicating the source of its addictiveness. Closest I've come to figuring it out: it has something to do with
(a)
revealing, ultra-relatably, the inner life of another and
(b)
doing so in a voice both cybernetically precise and near-unprofessionally colloquial.
Werner Herzog and Paul Cronin, Herzog on Herzog.
Herzog offers a clear-cut example of how someone becomes one of my icons. Producing interesting things — and he's produced plenty — is only part of the deal; the full extent of my respect goes only to those who live their very lives in they same way they create works of art. Herzog does not do "jobs," and he cannot live without pursuing dreams. This book is the best available long-form investigation of how and why he displays such fruitful bravado in both his life and his work — which I doubt he regards as separate compartments.
P.J. O'Rourke, Eat the Rich.
O'Rourke was my salvation back in high school when I worked at the
Gap. I'd get a 15-minute break every hour or two, during which time I'd dart over to the Borders at the
mall
's other pole and cram as much of his work into my brain as possible. This book shows him at the height of his three strengths: effortless-seeming humor (though the man's known for his hilarousness, I think it's actually still not fully appreciated), palatable libertarianism (an increasingly rare thing, alas) and the delivery of useful, interesting knowledge (in this case, about economics, which would become a favorite subject of mine).
Robert Rodriguez, Rebel Without a Crew.
Much flak has been shot Rodriguez's way for selling his story, on this book's cover subtitled "How a 23-Year-Old Filmmaker with $7000 Became a Hollywood Player," somewhat disingenuously. While it's true that
El Mariachi
didn't reach a releasable condition until a studio poured a hundred grand or so into it, I do think how Rodriguez
himself
only laid out $7000 and then parlayed it up is even more educational. It's a shame that the guy hasn't delivered on his early promise — although I admit that he works in genres, like "action comedy," that I couldn't care less about — but his book got me into low-budget filmmaking. (And diarism, since it just collects his diary entries from the production time.)
Kobo Abe, The Ark Sakura.
It takes bigtime authorial boldness to get me interested in the novel, a
form I started finding clapped-out in late elementary school. The Japanese surrealist Abe had this boldness and then some; this book was my introduction to his distinctively placid, scientific and somehow also goofy sensibility. A late work and probably not his best, the story follows the work of a chubby shut-in to transform a vast underground cavern into his personal fallout shelter. He looks for candidates to join him and ultimately repopulate what he assumes will be the fallout-devastated Earth, but the noble quest devolves into a series of pathetic conflicts with a gang of street-sweeping senior citizens, a rival at the slapping-girls'-butts games of supremacy (only in Nihon) and, finally, a superpowered toilet. I'm still not sure quite what makes Kobo Abe Kobo Abe, but lord, I wants me some of it.
Alexander Theroux, Laura Warholic: Or, The Sexual Intellectual.
I knew one of Theroux's novels would make this list but had a hard time deciding which one. I'm still not sure if I made the right choice, but damn, do I love this book. (See also
my Marketplace of Ideas interview with Theroux about it
.) Something about Theroux's relentless, two-fisted cliché-destruction lands square in my "yes, this is correct" zone. The 900-ish-page, flamboyantly unconventional
Laura Warholic
is a maximalist example; his slimmer mid-80s release
An Adultery
feels superficially like a "normal" novel of contemporary thirtysomething sexual drama but for its deep, inescapable, barely-articulable
askewness
.
Edward Tufte, The Visual Display of Quantitative Information.
Bringing up this book makes an
excellent litmus test for prospective friends. If they express their pre-existing love for all things Tufte, green light. If they're intrigued by the concept implied by the title, yellow light. If they mime a cascade of yawns and a snoring fit, red light. Almost 30 years after its initial publication, the book lays out, with startling clarity and pretty much unsurpassed alignment of aesthetics, form and substance, lessons about how to think about and present data that still go sadly unlearned in society's dark, damp, Powerpoint-y corners.
Vernon Gras, Marguerite Gras, Peter Greenaway, et al., Peter Greenaway: Interviews.
In Greenaway — whom I've not yet spoken to, much less met — I detect a brother in arms. The obvious theme of this collection of conversations, approached from angle after different angle, is the damnably un-adventurous nature of modern cinema. Greenaway, whose elaborate, structurally-intensive films penetrate my psyche in a way that no others do, has come to believe that films are capable of so much, yet attain so little due to their perverse prioritization of storytelling over absolutely all else. I would weep with sympathy at this cause, were I emotional enough to weep. Maybe that's part of the issue. ("The hallmark of a Greenaway production is a marked absence of feeling," says
one internet dude
.)
Now let's see your lists!