Preparing to interview filmmaker Andrew Bujalski, I watched his three movies,
Funny Ha Ha
,
Mutual Appreciation
and
Beeswax
. Bujalski's work is the vanguard of what has been dubbed the "mumblecore" movement, which
the Wikipedia says
is "characterized by ultra-low budget production (often employing digital video cameras), focus on personal relationships between twenty-somethings, improvised scripts, and non-professional actors."
However weary I'm getting of hearing the word "mumblecore," Bujalski is infinity times wearier. But without exception, I've enjoyed the films that public opinion has shoved into the mumblecore stable, just as I've enjoyed works in any medium that are subject to about a thousand tight constraints at once. The aforementioned "focus on personal relationships between twenty-somethings" makes them sound insufferable, I know, but nowhere have Roger Ebert's words turned out to be wiser: "It's not what a movie is about, but how it is about it."
Non-audiovisual objections about these pictures seem to boil down to, "What do I care about the love lives of directionless 24-year-olds?" I'm not equipped to comment on that, since it's a whole class of complaint I've heard about films of all kinds — "What do I care about Portland skateboarders?" "What do I care about a couple middle-aged guys who like to drink wine?" "What do I care about dwarfs in an insane asylum?" — but have never come close to understanding. What, so I gotta
care
about everybody in a film now to appreciate it? Sheez, enough already.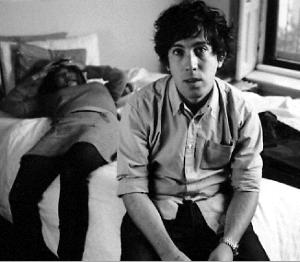 So while it would be a stretch to say I "care" about the various couplings and decouplings of the average mumblecore
dramatis personæ
, I'm still game to watch them play out in the hands of an interesting enough director. Hell, I'm game to watch
anything
— or nothing — play out in the hands of an interesting enough director. Even these kids' hand-wringing, vacillation, stuttering and squirreling about who they're with, who they've been with and who they could be with isn't the stuff of classical cinema, it certainly seems to be the stuff of life. Or at least the stuff of
some
lives, lives that I observe and that confuse me.
Don't these people, fictitious or real, twentysomething or whateverdecadesomething, have anything better to do? "I was watching
Who's Afraid of Virginia Woolf?
this past weekend, which has a bunch of marital/relationship-based fights that get really messy,"
Andy McKenzie
e-mailed me. "All I could think about was that this is all people have to entertain themselves when they are not intellectual and curious. It really must be a hard life."
A
New Yorker article on marriage therapy
had gotten me thinking about the staggering amounts of time, money, energy and all-around opportunity cost we humans pour into our sexual pair-bonding. I don't think I'm too daring in claiming that much of this labor is for naught. My mind naturally went to
a classic Onion opinion piece
:
A good 75 percent of my "job" is listening as some miserable husband-and-wife team drones on about their problems. Every once in a while, you say something like, "Well, what are some things Don could do to make you feel like he appreciates you?" Or, "Don, did you even know Wendy felt this way?" The rest of the time, it's just keep the eyes open, nod, and cash the checks.

Last week alone, my haul was a cool $4,500, and I made it just sitting on my ass. Check this out: These couples pay me $200 an hour, and I get paid whether I solve their problems or not. If they leave crying their eyes out, I get paid. If they end up getting divorced... paid!
My working theory is similar to Andy's. We've all got energy to burn, and if your energy isn't going toward creating anything, learning about anything or pursuing any goals not directly related to the reproductive instinct, it
all
gets squandered on fine-tuning, dicking with, "exploring" the particulars of your configuration of marriages, cohabitations, courtships, "relationships," engagements, engagements to engagements, engagements to engagements to engagements, boyfriendhoods, girlfriendhoods, boyfriend-girlfriendhoods, civil unions, spiritual unions, aspiritual unions, affairs, "arrangements," dalliances, line marriages, love triangles,
ménages à trois
, triads, quadrads, pentads, splits, "breaks," trial separations, separations, divorces, dissolutions, separate vacations, reunions, remarriages and retreats(, couples'). And with what, pray tell, to show for it?
Can anybody fall into this vortex of meaninglessness who has Great American Novel to write? Who longs to comprehend the behavior of the quark? Who has feverish visions — even of these very mating difficulties — that scream to be committed to celluloid? Who burns with the desire to add yet another layer to his atonal symphony? Who refuses to pass a day where brush does not touch canvas? Who does not build thinking robots so that he may live, but lives so that he may build thinking robots? Evolutionary psychology might say that all these pursuits are but sublimations of the reproductive instinct, and I can buy it. Nevertheless, it feels about as relevant to this discussion as pointing out that the computer on which I compose this post is but a shuffler-around of electrons, or that the sentences I type are but strings of made-up symbols.
Can those already in deep thrall to an endless loop of time-wasting relationship engineering do anything about it? "I don't think it's anything profound to prefer interesting things, really," Andy wrote. "It just requires a reprogramming of your reward system, to prefer pieces of information that iterate upon or demand an alteration of your current models of the world. Relationship-based therapy, fights,
etc.
, don't offer this kind of novel info. Usually they're just a rehashing of old, poorly generalizing (read: trivial) events."