If you can't see the above media player, either click the icon in its empty place or this post's permalink
Music with Roots in the Aether
. 102:43 min., color, 1975. Listed under
Robert Ashley
. Ubuweb's description:
Music with Roots in the Aether, an artwork by Robert Ashley, is comprised of seven two-hour programs featuring noted American experimental composers, created during the 1970s. Each program is two hours long and consists of one part Landscape / Interview (one hour) and one part live performance (one hour).
I'm not sure where of if
Music with Roots in the Aether
was originally broadcast or distributed, but I like the concept. Not only does Ashley's vision accommodate both performance and interviews, it also uses a visual style meant, as he once wrote, "to watch as closely as possible the action of the performers and to not 'cut' the seen material in any way — that is, to not editorialize on the time domain of the music through arbitrary space-time substitutions."
Though this episode on one of his own pieces doesn't contain an interview, it definitely adheres to that aesthetic. The handheld camera roves around, getting as close as possible to its subjects, and the only cut comes between the two segments. The first segment is the more elaborate, with Ashley himself and a small cast of oddly period-costumed performers laying down some piano and electronics while text appears and disappears onscreen. Like the cast's dress, the words have a historical feel that seems accurate at first but then deeply askew. Much of it is biographical data about various figures: "Guglielmo Marconi, Father of Mass Communications," "George Washington, Father of Our Country," "Whistler's Mother, the Mother of Whistler". The designations and the biographic data get stranger and stranger, until we're talking about the "inventor of the bolognaphone" and Colonel Sanders. (Preceding all this, I feel I should note, are recipes for tuna noodle casserole and pear jello salad.)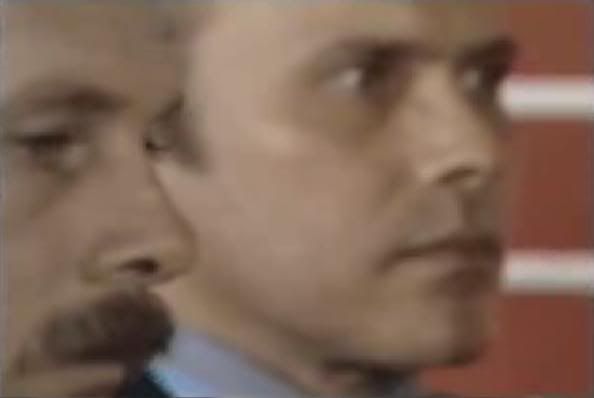 What to make of this? I'm not really sure, though the electronic music is pretty cool. The production is dated 1975, but something about its look and feel keeps me from fully believing that. I expect text a lot more public access character generator-y from that era; this stuff looks like something out of the 1990s. And the music itself also seems ahead of its time, though perhaps that's just the way of forward-thinking composition. All the while, the slow-moving camera has a lot to look at (and sometimes focus on) in what comes to nearly an hour, given the eccentric clothing and all the music gear and just plain weird stuff on stage. I mean, I've always know that there
were
such things as commemorative plates; I guess I've just never seen them before.
The slightly shorter, comparatively minimalist second segment begins with just a semi-tacky framed picture of palm trees and an island in silhouette. The camera slowly zooms out to reveal the one Stoic-faced suited man. Eventually, it reveals not one but two of them. Over Enoesque background music, the men stare straight ahead and communicate — though not, apparently, to one another — with a form of sign languages that sometimes looks real and sometimes looks totally made-up. The camera drifts to the faces, to the hands, back to the faces, and so on, and so forth. Speech seems to happen on the soundtrack, but it's not exactly speech, or at least not intelligible speech.
Verdict: while you could definitely watch this, you could even more definitely freak people out a little by projecting it on the ceiling of your next house party. I look eagerly forward to the next
Music with Roots in the Aether
episode.