I spent last weekend shooting my first narrative short film. But because cinema is such a deeply collaborative medium, it doesn't quite make sense to say that
I
did it. Madelaine was my assistant director, two young friends did the acting, and
Kyle
provided pre-production hookah consultancy. (There is a hookah in the movie.)
We shot the project, which doesn't have a title yet — aw, that won't become an issue until the first festival deadline in, uh, a week and a half — mostly on high definition video and partially on Super 8 film. This is the HD camera I rented, the Canon HX-A1. Despite certain small wonkinesses — this is the only device for which I've had to consult the manual's "How to Plug it into an Outlet" section — I quite liked it. A+ WOULD SHOOT WITH AGAIN
I was initially hesitant to go with a high-resolution format like HD video, because it usually looks too much like reality. Sure, you can dick around with it in post-production by applying filter upon filter, but there's something lame (and system resource-intensive) about that. I was hell-bent on going with standard definition video at first, until I got talked out of it. If I dropped the boom into a shot or something, SD probably couldn't tolerate zooming in to get it out, and I would be scrud. So I bit the bullet, went HD, and tried to make it look as gritty as possible.
In addition to her assistant-directorial duties, Madelaine snapped some "production stills." You can see that I've adhered to my long-professed small-crew sensibility. At its largest, the entire team came to four: Madelaine operating the camera, me holding the boom (and since we shot 80 percent of the thing silent, I barely had to do that), and two actors acting. This is the most populated still I can offer.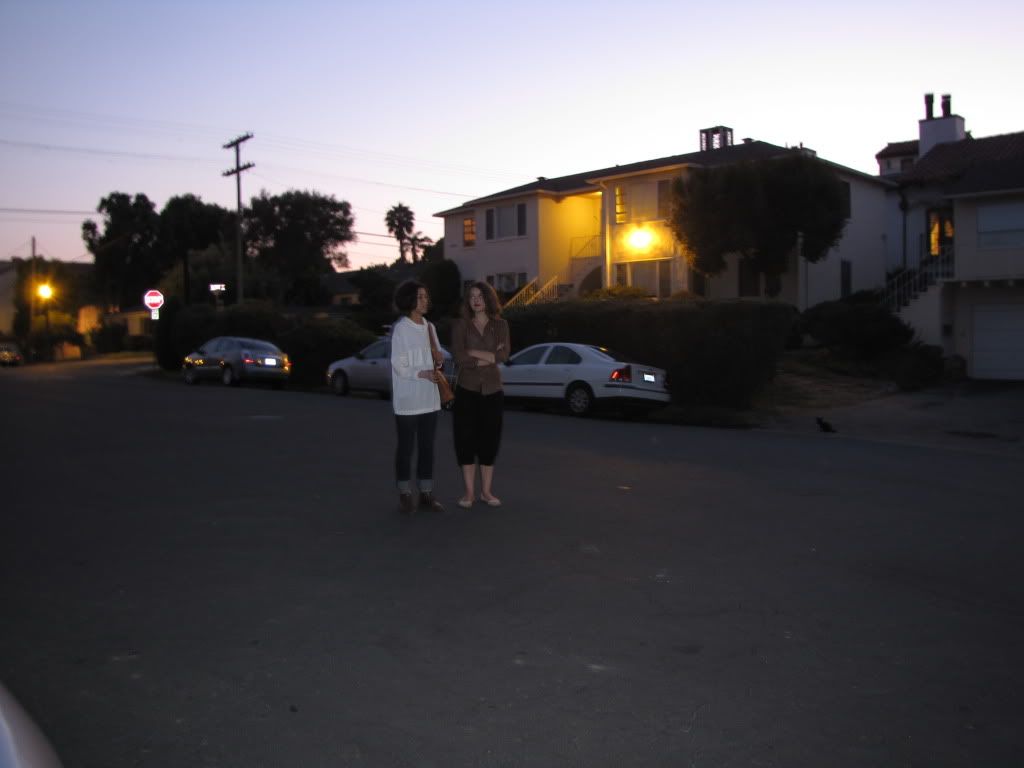 This is my favorite shot. I kinda wish it was part of the movie. These two ladies happen to be the entirety of the cast. On the left is Marley, whom you might recognize from
From Girls to Girls
. We met in a City College production class. I realized she had good aesthetic instincts when she mentioned she liked Pen-Ek Ratanaruang's
Last Life in the Universe
. (Also, we are both members of the pro-
Limits of Control
club. The club includes me, her, and J. Hoberman.)
On the right is Lyndsey, who's more interested in visual art than in acting. That is to say, she's not interested in acting at all. Yet she did what I consider to be a sterling job. A sterling unpaid job, too. I guess I owe her a drink or something.
Conferring with said cast about how to look properly (and ambiguously) dread-filled. I did manage to achieve this architecture/sky contrast in the film, though it's in black and white, so this is the only chance you'll get to see the neato color.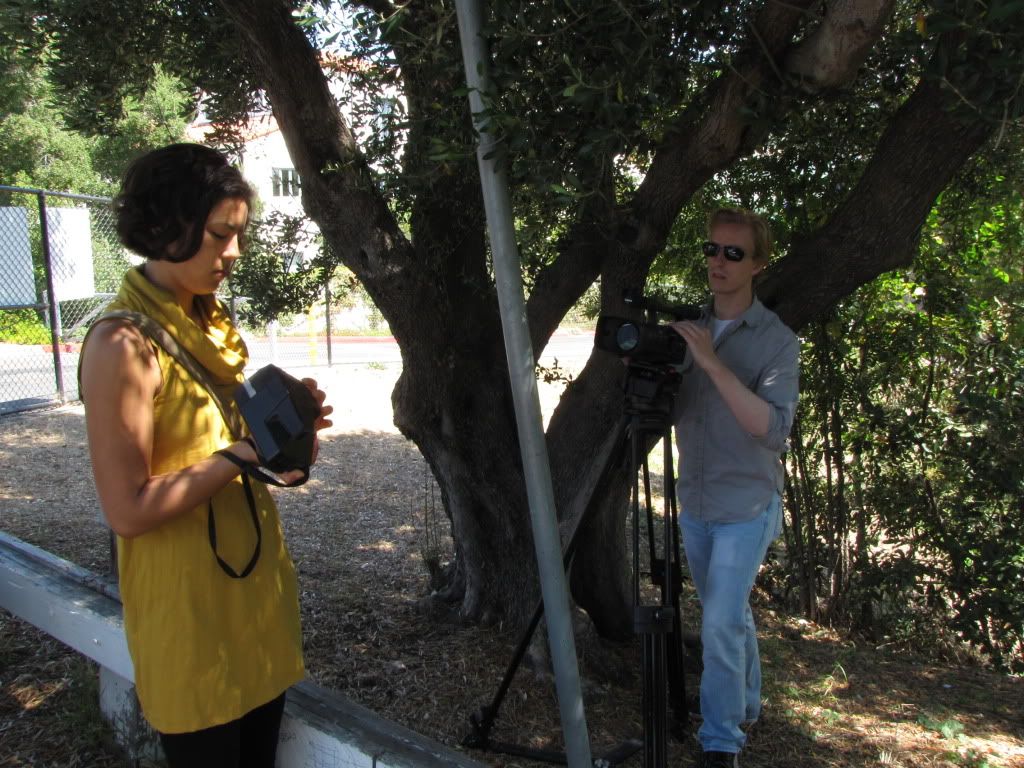 Marley's character fixates on this marginal wooded area, taking Polaroid after unrevealing Polaroid of its various features, some striking, some trashy. It's a fun conceptual challenge not only to shoot someone themselves shooting things, but to do it in seven or eight different shots and keep it interesting. I've tried; you'll decide (when the damn thing gets edited, that is).
All creation is war against cliché, but for some reason I couldn't defeat the cliché where you shoot through a chain link fence. My defense is that elements suggesting the urban in Santa Barbara are few and far between.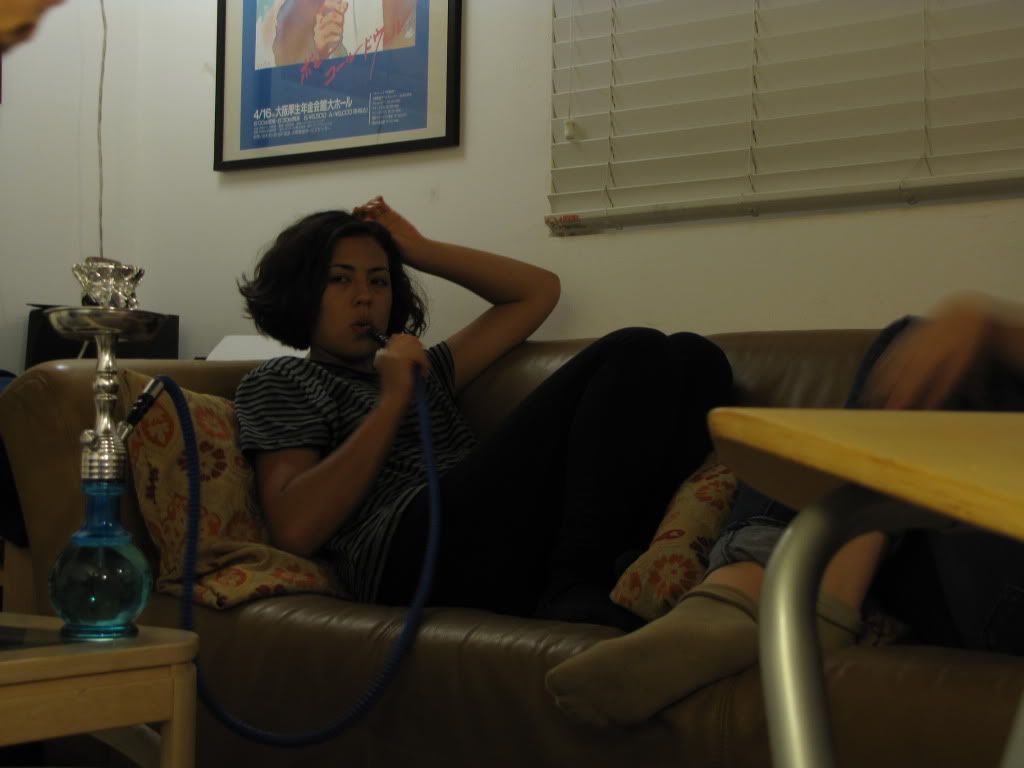 Told you there was a hookah involved. So consumed is Marley's character with this site — the site of an unseen but freaky and Super 8-y event — that she can't even enjoy a late-night hookah session. And here I thought there wasn't a man, woman, or child alive who couldn't enjoy a nice glob of melon mint tobacco.
Lyndsey's character, on the other end of the couch, was not so affected by the incident. She pokes fun at Marley's character, but can't snap her out of it. Tom Tykwer said something on his
Run Lola Run
DVD commentary that has never left my mind. Discussing casting the role of Jutta, the mistress of Lola's father, he mentioned that he had to have the actress
Nina Petri
because "her face was so interesting." You'll notice that both of these ladies have interesting-looking faces, which has become by number one requirement in an actor. (Note that "interesting" is distinct from any other traditionally movie-ish qualities.)
Building the Big Wall O' Polaroids. It still stands in my apartment. I don't know when I'll have the heart to take it down. If I become the next Peter Greenaway, I'll put all the photos on eBay.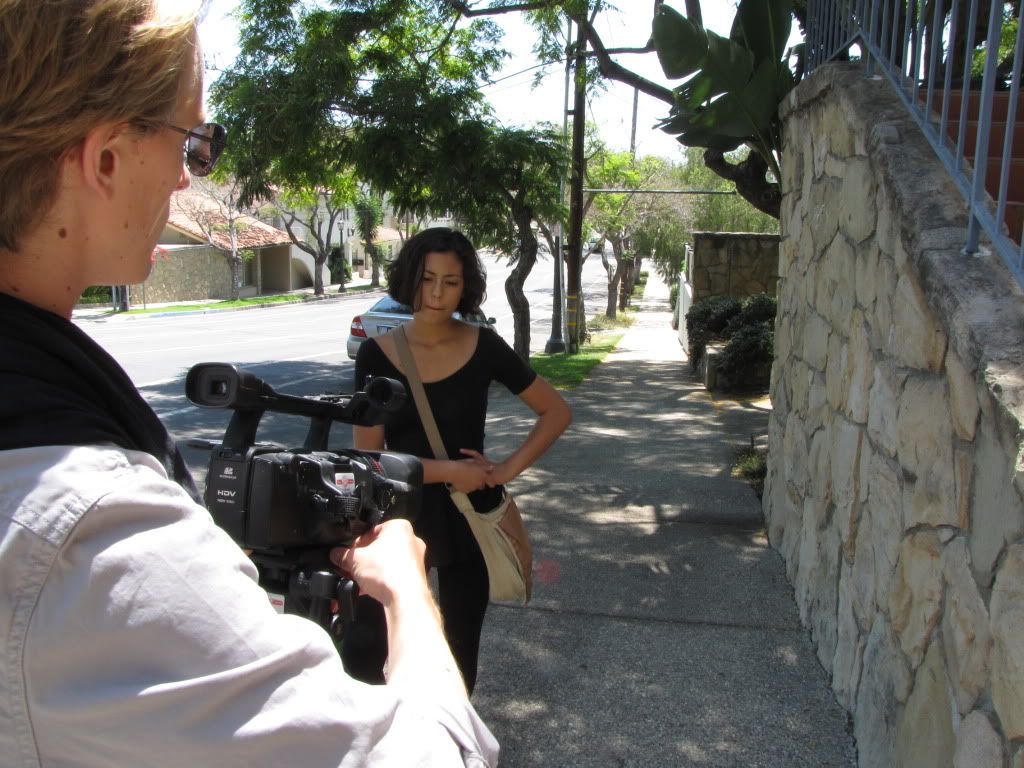 I don't even want to tell you how hokey an effect I busted out for this series of shots where some ominous presence surrounds Marley's character. Nobody (meaning the other two at that day's shoot) seemed to believe that it would work, but now that the editing's about 60 percent done, I can tell you that it looks remarkably convincing. I'm still waiting for the lab to send me the Super 8 footage I'll be splicing into the sequence, but presumably when I get it in there I'll have an
Avatar
-killing game-changer on my hands. Puke all over every game but this one.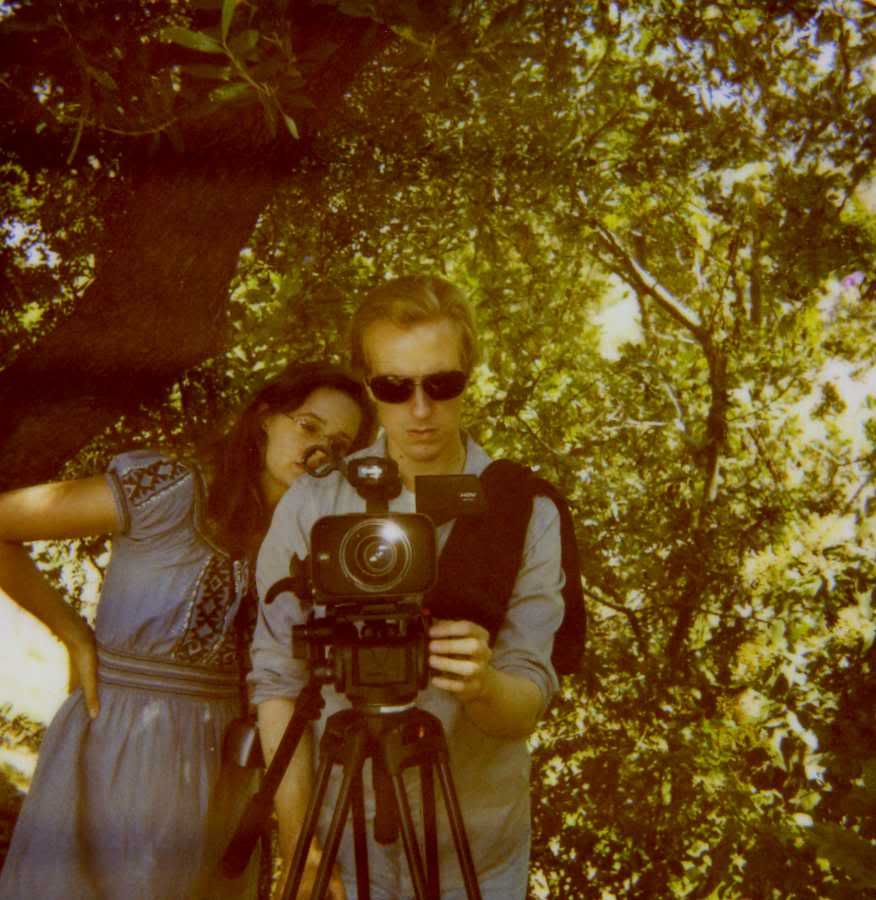 Director and assistant director hard at work. I've been hearing a lot of wild rumors that these two are romantically involved, living in sin somewhere in upper Southern California. This is the only still Madelaine made it into, because it's actually one of the Polaroids Marley took on camera. Or, in this case,
at
camera. We are cinema.