If you can't see the above media player, either click the icon in its empty place or this post's permalink
American Nightmare
. 2:37 min., color, 1991. By
Beth B
.
For a fan of what's called experimental literature, experimental music, experimental film,
etc.
— one who writes a series called the "Ubuweb Experimental Video Project", no less — I don't much care for that E-word. But who does? Surely not the artists actually working in the form. That's just one more burden of negative associations for them to labor under, much like novelists who write about "romance" or musicians whose records get filed under "new age."
So who's been giving experimental art a bad name? A vast number of parties, I would imagine, not all of whom are even aware of each other. What they seem to have in common are their crimes against subtlety. I always think of David Sedaris' "Twelve Moments in the Life of an Artist", a chronicle of his brief career as a seventies performance artist. He quotes his father, whom he regarded as something of a philistine then as now, suggesting he melt a skillet of toy soldiers "to symbolize man's inhumanity toward man." It's the creators who would take that under serious consideration.
They're
ruining it for everyone.
I've heard seasoned magic realist authors say that, if you're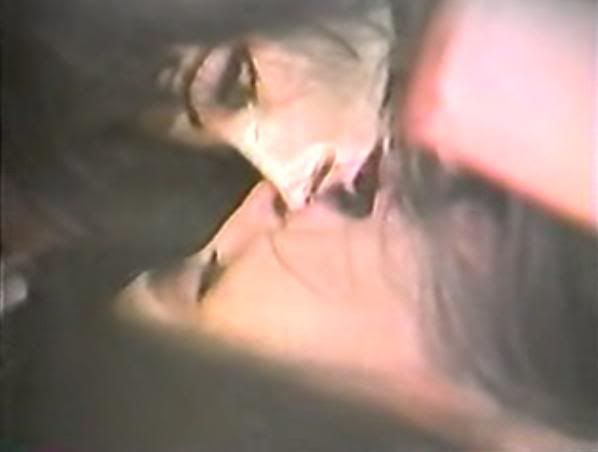 going to include a little magic in your fiction, you damn well better balance it out with a dose of concrete mundanity at least twice as large. I find this goes for most flavors of extremity. If you want to get transgressive, for instance, you can't go 100 percent transgressive without defeating yourself. Who's going to take a 100 percent transgressive work seriously? Even if they did, what would it mean? The thing would occupy its own hermetic world, devoid of resonance in the one we occupy. This has led me to formulate a handy rule: if something's fairly banal on its surface, it can hold a quite a lot of transgression at its core and surreptitiously smuggle it into the audience's minds. If it's really extreme on the surface, chances are all that extremity sheaths a banal core.
Which is all my roundabout way of saying that, if you make a video full of swastikas, human skulls on American flag backdrops, girls frenching on department store mannequins and burning themselves with candles, military helmets and clomping boots, dudes masturbating under crucifixes, and a bunch of crotches, a certain conclusion is unavoidable.