If you can't see the above media player, either click the icon in its empty place or this post's permalink
The South Bank Show on Francis Bacon
. 54:55 min., color, 1985. Ubuweb's description:
Part of The South Bank Show series, avid Hinton directs this BBC documentary about British painter Francis Bacon, known for his horrifying portraits of humanity. The program consists of a series of conversations between Bacon and interviewer Melvyn Bragg, starting with commentary during a side-show presentation at the Tate Gallery in London. Later in the evening, Bacon is followed through various bars hanging out, drinking, and gambling. In another segment, Bacon provides a tour of his painting studio and a glimpse at his reference photographs of distorted humans. The artist discusses his theories, influences, and obsessions.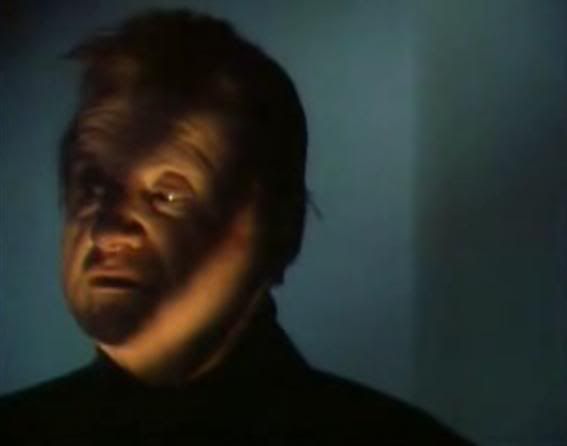 I've started thinking of The Ubuweb Experimental Video Project as my own art school. On the downside, it lacks the whole social aspect, which may well be the most important part of art school. (It's the kind of place, after all, where one meets a young Brian Eno.) On the upside, I don't have to deal with anyone I don't want to deal with to get through it. (Certain art school students, naturally, taking pride of place in the ranks of people I don't want to deal with.) Back on the downside, it lacks a curriculum recognized in any traditional way. Back on the upside, it lacks a curriculum recognized in any traditional way.
Watching this episode of ITV's
The South Bank Show
, I realize that, taken similarly in its enormous entirety, it, too could be a kind of art school. From 1978 to 2009, the program followed Melvyn Bragg — he of BBC Radio 4's
In Our Time
, also known as one of my favorite things ever — in his conversations with and explorations of the working spaces of figures like Peter Gabriel, Alec Guinness, Paul Bowles, the Pet Shop Boys, and, of course, a certain Francis Bacon. It's the sort of thing to which I could easily become hopelessly addicted; I guess I'm glad there's not a convenient episode archive on the net.
This particular episode won an International Emmy, and it's not hard to see why: in less than an hour of television, it captures three or four of those golden moments for which "real" documentary filmmakers long. I'm thinking especially of the part where, grasping for the words to explain his artistic mindset, Bacon asks if he can just use the notes he'd prepared earlier that day. He then produces a folded sheet from his leather jacket and reads off a paragraph that may explain everything about his paintings, or nothing.
I doubt Bacon himself would have approved of my search for a surrogate art school. When Bragg asks him if he was ever formally trained, Bacon swiftly comes back with something like, "No, thank
god
." He describes his fear of ever becoming an "academician," presumably because of the dissociation with the stuff of life that entails. In this show, you see an artist very much engaged with the stuff of life indeed — especially with its baser elements, and really especially when the drink is involved.
Bragg, being the ultimate intello-artistic-culturo-literary roving reporter that he is, naturally follows Bacon wherever these pursuits take him. I believe they go drinking, on camera, more than once. (The wine, which Bacon keeps pouring, seems to hit the presenter harder than the artist, unsurprisingly.) When you're dealing with a subject for whom going out drinking is his very element, can you afford
not
to do that? In the same manner, a healthy chunk of the long-form interview this show ultimately is takes place in what is either the middle-aged men's section of a gay bar or the gay section of a middle-aged men's bar. Bacon was in the thick of his life, and the art seems to have come out more fascinating for it. This episode of
The South Bank Show
does the same, and it, too, is thus art.