If you can't see the above media player, either click the icon in its empty place or this post's permalink
Untitled Fall '95
. 56:58 min., color, 1995. By
Alex Bag
. Ubuweb's description:
Bag, at the time an art student, "plays" Bag the art student. In a series of deadpan performances, Bag gathers fragments of pop detritus, fashioning a thoroughly mediated document that is at once a celebration and a record of loss. With the narrative inevitability of a TV serial, the eight diaristic segments trace a woman's struggle to make sense of her experience at art school. As each installment marks the start of a new semester, Bag's character addresses the camera with her latest observations and frustrations.

Interspersed between these confessions are eight set-pieces, in which Bag performs scenes from the background noise of her imagination: a pretentious visiting artist, London shop-girls discussing their punk band, a Ronald MacDonald puppet attempting to pick up a Hello Kitty doll, the singer Bjork explaining how television works. These surreal episodes sketch out what Bag sees as the simultaneous attraction and repulsion of contemporary youth culture, and teeter on the divide between parody and complicity.
How apropos I mentioned my use of Ubuweb as art school in the
previous writeup
. Not only is
Untitled Fall '95
about art school, it's
by
an art school student. You see, she's
well-known now
, but back in the days of
Melrose Place
and
Beavis and Butt-head
— both of which are name-checked in the video — Alex Bag was just another kid at NYC's School of Visual Arts. Steering by the tried and true principle of "video what you know," she put together this saga of urban art-school life.
The chapters of this semi-fictional academic career, each of which takes place at the beginning of a new semester, are sort of proto-vlogs. The first has the bright red-haired Bag chatting into the camera about how "stoked" she is to finally be around "people who, like, understand me." As the semesters pass, her appearance changes and her on-camera intake of coffee and cigarettes increases. She announces her decision to "do the fine arts thing," because "advertising is so evil" and "I'm not going to kiss anyone's ass, basically." She's reasonably heartened to notice "big improvements in my shading and foreshortening," but then finds her self stuck writing "these really boring papers." By the time her hair assumes a bob-like shape and she gains a pair of retro
Far Side
glasses, she's met this RISD guy who impresses her by being "into all these really specific things."
School takes a turn for the worse around the sixth semester. Having dyed her hair black and picked up a nose ring, she admits to being "a little bit depressed," that "everything goes all wrong when I'm forced to explain my work," that she thinks "I shouldn't have to stand next to my thing and explain why I made it." She moans about having to endure her classmates' questions during critiques, having to explain endlessly how "my parents" and "high school" "fucked me up." She complains about the supposed superiority of everybody else at SVA, asking, "What is the point of making work for people who are so smart, they don't even watch TV?"
As the end of art school approaches, she appears to have imbibed that classic cocktail of bitterness and negativity. She's realized that "artists are so boring." She's been "reduced to applying for these really lame jobs." She "can't wait for it to end." She's "scared for it to end." Her one green shoot is the promise of the gritty but kaleidoscopic outside world, which offers an endless array of real, tangible things that may or may not be art-related. At least it's an escape route from the world which keeps her head "buried in some post-structuralist, anti-Lacan, MIT Press thing."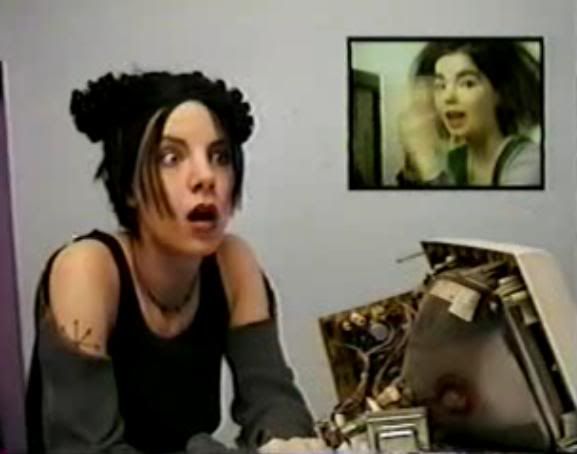 It's in her final couple semesters that her internal pendulum swings to an almost sympathetic position. Despite patches of transcendence and optimism, her history at SVA has been one of complaint. She "decides" to pursue fine art because she can't stand commercialism, yet she resents her professors' insufficient mastery of current pop culture. She's wowed by the presence of other artists, yet she also can't stand them. She works for a successful artist whose practice of hiring students to to his gruntwork she finds loathsome yet somehow inspiring. She doesn't care if she ever makes money from her work, yet she does. "I'm the first to admit that I'm a mass of self-contradictions," she says to the camera, "but I don't think there's anything wrong with that." She finishes off with a
cri de coeur
against those most villainous of Gen-X villains, those "selling my culture back to me."
It's kind of funny that we postmillennials don't seem to care about that thing, though I'm not quite sure what to make of it. Despite the generational divide, though — and despite the fact that I go to Ubuweb, not SVA — I can feel the resonance in this character's apparently potent combination of camaraderie and spite, confidence and wariness, optimism and dread. True, in many ways she cuts a ridiculous figure: taken from certain angles, she seems vapid, bombastic, directionless, entitled, unreasonably demanding. But maybe there's nothing wrong with that.
While these segments could hold their own simply strung together one after the other, Bag intersperses them with a series of bizarre vignettes. Each stars different eccentrics, all played by Bag herself with what must have been an epic raid on the theater department's costume closet. An unappealingly coiffed guest lecturer medicatedly describes her 365-screen installation and how "it's not as impactful" seeing the videos sequentially instead. A couple slack-jawed Brits yammer on to one another about how boring everything is except for punk rock songs whose lyrics yammer on about how boring everything is. Androgynous teenagers have an after-school-special moment. Bag stares, somehow both in astonishment and with deeply dead eyes, at a video of Björk disassembling a television set. Is the whole lesser or greater than the sum? I'm not sure I'd want to take it apart to find out.