If you can't see the above media players, either click the icon in their empty places or this post's permalink
I Will Not Make Any More Boring Art. 13:06 min., black and white, 1971. By John Baldessari. Ubuweb's description:
In 1971, Baldessari was commissioned by the Nova Scotia College of Art and Design in Canada to create an original, on-site work. Unable to make the journey himself, he suggested that the students voluntarily write the phrase "I will not make any more boring art" on the gallery walls. Inspired by the work's completion — the students covered the walls with the phrase — Baldessari committed his own version of the piece to videotape. Like an errant schoolboy, he dutifully writes, "I will not make any more boring art" over and over again in a notebook for the duration of the tape. In an ironic disjunction of form and content, Baldessari's methodical, repetitive exercise deliberately contradicts the point of the lesson — to refrain from creating "boring" art.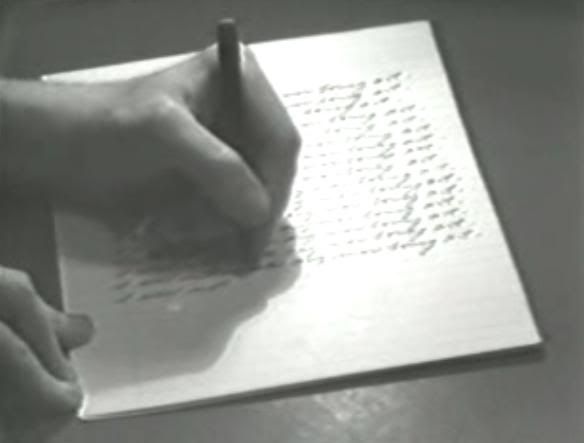 The 85-year-old Calvin Tomkins recently wrote a New Yorker profile of the 79-year-old Baldessari. The article is called, as it happens, "No More Boring Art", and I've got to admit, the collision of this very old art journalist and very old artist made for more interesting reading than anything I've seen from the youngsters recently. (It actually prompted me to buy a digital subscription to the magazine, which meant, as a youngster myself, enduring that lingeringly heretical feeling of paying actual money for online content.) Unsurprisingly, Tomkins mentions this very project, both its get-Nova-Scotian-students-to-write-on-the-walls phase and the tape-myself-writing-on a-pad phase. He quotes Baldessari: "It's very boring, isn't it?"

Well, yes and no. It's easy to dismiss the kind of art Baldessari has spent most of his career making — Lance Esplund, reviewing "Pure Beauty" at LACMA in the WSJ, certainly did — but I can't deny the spark I get from this sort of thing. Would I sit down in a gallery and watch the gray hand of John Baldessari write out "I will not make any more boring art" for thirteen straight minutes? Probably, because how often does the opportunity come up? Would I watch the same thing on a computer screen? I guess that's exactly what I'm doing right now, but the resolution is low — I can't even make out the sentence — and I do feel the lack of an institutional environment to strange up the experience. I really should've made the trip to LACMA, but hey, with seven more Baldessari-related pieces available on Ubuweb, I won't have to do entirely without.