If you can't see the above media players, either click the icon in their empty places or this post's permalink
Six Colorful Inside Jobs
by
John Baldessari
. Ubuweb's description:
In "Six Colorful Inside Jobs" he draws a parallel between a double process of life and creation. The video shows a room being painted in six different colors, each color of the spectrum corresponding to a day of the week. This work, which started as a performance/installation, integrates the artist as a comic figure faced with contemporary history — that of American painting — and shifts his function toward that of a house painter. Through this form of irony, Baldessari shows to what extent instruments and materials help him define the subtle limits between art and work, art and life.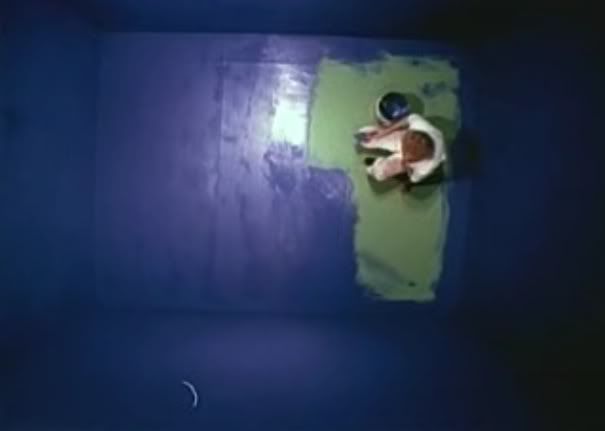 The camera faces straight down into a very small, very white room; a blank cell, almost. John Baldessari enters and, in time-lapse fast-motion, paints the walls and floors a blood-ish red. Right after he packs up and leaves, the day's job well done, the next day's job begins: painting all the red over with a light orange. The day after that, he carts in a bucket of — so you've predicted — yellow. This hypnotizes me. Painting a room yourself can, in time, turn into a meditative process, but watching the trick-photographically twitchy, white-clad but slowly discoloring Baldessari do it induces a good old trancelike state.

I can't tell whether this would work better as an installation, as Ubuweb's description mentions it initially being, or if it's best as a sped-up video. Had I been alive and art-going 34 years ago, sure, I'd have stopped to watch Baldessari paint for half an hour, but you can be damn sure I wouldn't watch all week. (Did savvy viewers maybe "check in" on him a few times over the course of the project? Or does that strategy sound obvious to everyone but me?)

Two specific elements of the video never stop fascinating me: the way Baldessari deals with the ever-shrinking floor spaces he must paint even as he occupies then — he does the final footprints from just outside the door — and the fact that he never seems to leave to use the bathroom. Or did an editor artfully cut those moments out? I keep looking for telltale jumps, but none appear. 20th-century art has so much to do with bladder control.

Six Colorful Inside Jobs reminds me of the chance I had, about ten years ago, to re-paint an old childhood room. I chose a color called "Silver Sword" and listened to Thriller on repeat as I worked. No record remains of what, if anything, John Baldessari listened to. Given the video's silence, I suppose nobody would stop you from playing Thriller yourself as you watch.