Though I consider it one of my primary nations of residence, I grow weary of the modern internet. It's terminally diseased, overrun as it is with bullshit: Flash, image macros, search engine optimization techniques, pop-unders, futile content-guarding "advanced Javascript," social media, lists of 27.4 habits to zenify your productive wellness, shovelblogs,
cats taking it in the jewels
and endless squirrely "monetization" schemes are just the poisons that come first to mind.
I'm not deluded enough to believe we can close Pandora's box, but I
am
deluded enough to believe I can eschew the modern web entirely and spend the rest of my days in the purer, infinitely more interesting web of 1997. No, I haven't invented time travel, though if I
had
invented time travel, I'd certainly be using it to return to 1997 and surf the web. I've simply gotten adept at using archive.org's
Internet Wayback Machine
, a cache of sites dating back to the mid-nineties.
I make many fascinating discoveries in my Waybacking, and will periodically surface to tell my tales. Friends, I first give you
JapanEdge
: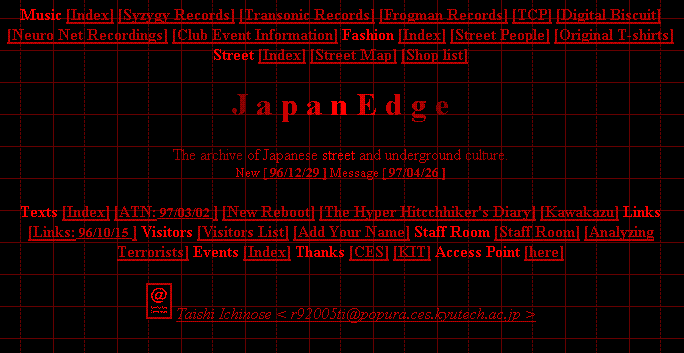 Last updated April 24, 2997, the site is the work of one
Taishi Ichinose
, a then-23-year-old Kyushu Institute of Technology computer science student with an interest in "Rock and Techno" as well as "street and underground culture." He appears to have maintained JapanEdge as a repository of info on his favorite zines and record labels, the best clubs in Fukuoka and the most strikingly-dressed people on the street he could get to pose for his early digital camera.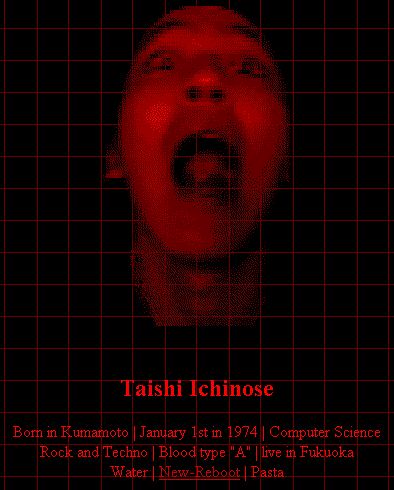 He also hosts two project there that I can't quite comprehend:
Analyzing Terrorists
and
The HyperHitchHiker's Diary
. At least with the latter, we know for sure that "the spirit of the HyperHitchHikers' Summer of '95 will be a season for all of us to remember and reflect on.
Forever.
On the Web
."
The place has a stimulatingly confusing feel of retro-futurism about it, like it's something William Gibson dreamt up in 1988. The East-Asianness certainly feels Gibsonian. Owing to him and others, it's pretty much
de rigueur
to be a young person interested in Japan in the 21st century, so I've long felt the need to dial in my own J-fascination, to get it down to specifics not shared by an entire generation of
Naruto
fans. I'm thus most interested in the Japans extant between, oh, 1960 and 1998, a span at whose tail end the Japan of JapanEdge falls.
I'm also interested in the limitations of the internet and digital media technologies of the nineties, which are all Ichinose
23
had. His page of
graphic works
offers a series of photos taken with a
Casio QV-10
and manipulated with a shareware application called "xw". Needless to say, I am now desperate to purchase a QV-10 of my own in order to take low-resolution shots of my travels, knowing full well that I'll have a hell of a time getting it to interface with my modern gear. Nobody even seems to know what the right drivers are!